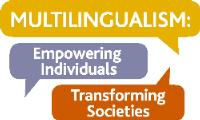 This is a new flexible funding scheme issued by the Multilingualism: Empowering Individuals, Transforming Societies (MEITS) project, as part of the Arts and Humanities Research Councils (AHRC)'s Open World Research Initiative (OWRI, a major new funding initiative for modern languages that seeks to establish a new and exciting vision for languages research in response to the challenges and opportunities presented by a globalised research environment and multi-lingual world; up to £4m Full Economic Cost (fEC) is available per OWRI programme over 4 years).
MEITS is a multidisciplinary project that includes six research strands exploring multilingualism from a range of perspectives. The research strands are:
Arts of identity: literature, cinema, culture and citizenship in a globalizing Europe
Standard languages, norms and variation: comparative perspectives in multilingual contexts
Sociolinguistic perspectives on multilingualism: identity, diversity and social cohesion
The influence of multilingual identity on foreign language learning
Language learning across the lifespan: the role of age, language-specific factors and learning experience on language acquisition
Multilingualism and cognition: implications for motivation, health and well-being
MEITS particularly welcomes applications from Early Career Researchers and from institutions that are not involved in any of the four OWRI projects. In addition, projects that come from scholars working in literature, cultural studies, and visual culture that explore the MEITS themes in relation to these areas will be given priority. MEITS also looking for proposals that will be able to contribute expertise and material for our proposed pop-up museum of languages.
This is the first of two calls for funding to encourage other researchers and partners to work on the themes of the MEITS project and which awards grants of up to £10,000. Results are expected by 30th November 2017 and the earliest start date for research is 1st Junuary 2018.
For full information, please see the call document.