BBSRC has announced a call for collaborative proposals to address research challenges relating to the sustainable intensification of agricultural systems in sub-Saharan Africa. This is part of the Global Challenges Research Fund (GCRF) which requires projects to meet Official Development Assistance criteria alongside their scientific objectives.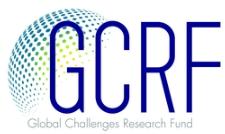 The purpose of this initiative is to inform the sustainable intensification of agriculture in sub-Saharan Africa by supporting research that brings together the complementary capabilities of scientists in the UK and partners in the target region. It aims to enhance food and nutritional security, and contribute to economic development, by improving the productivity and health of food crops (particularly indigenous and 'orphan' crops) important to African farmers, especially smallholders.
In addition to UK researchers normally eligible for BBSRC funding, applications may include eligible Co-Investigators based in sub-Saharan Africa (see list of eligible countries in downloads section). Proposals must be led by a Principal Investigator in the UK, but partnerships with Co-Investigators in sub-Saharan Africa are strongly encouraged.
The focus of the call is on farming systems, and their interactions with the environment, including the benefits derived by agriculture from other ecosystem services and its consequences for the natural capital on which it and they depend. In particular, the initiative aims to improve the productivity, sustainability and resilience of food crops through research to optimise, in a systems context, one or more of:
the use, management and conservation of soil, nutrients or water in a changing environment 
the exploitation of biodiversity:


genetic variation in indigenous and 'orphan' crops (including mixed cropping systems)
the agronomic potential of beneficial organisms (fauna, flora or microbiota, above or below ground) for enhancing crop productivity or countering pests, weeds or diseases.
This call is for research on farming systems in which crops are grown for human consumption. Projects may also include other crops grown for animal feed or non-food uses in rotations or mixtures with food crops, but the focus must be on production of the food crop(s). The scope of the call also includes the contributions of farmed animals to food crop productivity (for example through improved soil quality or nutrient cycling in crop-livestock systems), but research focused primarily on animal production or health is excluded.
Proposals will be invited for projects of three years' duration. The application deadline will be in November and successful proposals will be announced in the spring of 2018. Up to £10 million is available, subject to the quality of applications received, with the aim of supporting a balanced portfolio of around 10-15 projects across the scope of the call. The typical overall cost (including UK costs at 100% FEC) of individual projects is likely to be in the range of £500,000 - £1.5 million. Applications must not exceed a maximum of £2 million.
This initiative is informed, in part, by the outputs of a workshop held at the Biosciences Eastern and Central Africa-International Livestock Research Institute (BecA-ILRI) Hub, Nairobi, Kenya in March 2017. The workshop report is available on the SIRN website (see external links).
Please read further information here.