This capacity-building programme is under the remit of the Royal Academy of Engineering as a delivery partner for the Global Challenges Research Fund. The aim of GCRF Africa Catalyst is to strengthen professional engineering bodies in sub-Saharan Africa so that they can effectively promote the profession, share best practise and increase local engineering capacity, to help drive development.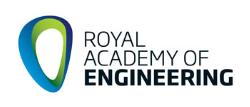 The Academy supported a wide range of short pilot projects running from mid-December 2016 until June/July 2017 and appointed an external consultant to do a midterm evaluation of those interventions. Lessons learned from this evaluation, combined with suggestions from an independent consultant on programme design and input from relevant stakeholders has helped shape phase 2 of the programme.
This programme is to be supported by high quality research focusing on expanding the evidence base for the importance of robust engineering institutions and the role they play in delivering sustainable growth, and mapping engineering capacity and diversity in the countries where grant funding has been administered. More specifically, the objectives are:
To create strong professional engineering bodies in the countries where grant funding is being administered 
To identify how professional engineering bodies can best promote the profession and better understand the current engineering landscape in the benefitting countries
The Academy will allocate funding through two closely connected programme areas, both promoting collaboration between countries in sub-Saharan Africa and the UK:
​The first programme area consists of grants for capacity building which are open to professional engineering bodies, including registered not-for-profit federations, organisations, institutions and associations based in sub-Saharan Africa*, working in collaboration with a UK partner.
The second programme area is focused on research, and is funded through a tendering process open to universities and leading researchers, working in collaboration with researchers and professional engineering bodies in programme-relevant countries in sub-Saharan Africa. 
In addition, the Academy is encouraging further collaborations, both locally, regionally and internationally. 
A cross-cutting objective for both programme areas under GCRF Africa Catalyst is diversity. It is a requirement for applicants who do not have a gender equality or diversity policy to include the development of such a policy in their project proposal and the Academy does encourage diversity and inclusion to be considered in the project design. In addition to this, diversity will be a focus for the research project. 
*For the purposes of the programme, the Academy consider the following 49 countries to be part of sub-Saharan Africa: Angola, Benin, Botswana, Burkina Faso, Burundi, Cameroon, Cape Verde, Central African Republic, Chad, Comoros, Republic of the Congo, Democratic Republic of the Congo, Côte d'Ivoire, Djibouti, Equatorial Guinea, Eritrea, Ethiopia, Gabon, The Gambia, Ghana, Guinea, Guinea-Bissau, Kenya, Liberia, Lesotho, Madagascar, Malawi, Mali, Mauritania, Mauritius, Mozambique, Namibia, Niger, Nigeria, Rwanda, Sao Tome and Principe, Senegal, Seychelles, Sierra Leone, Somalia, South Africa, South Sudan, Sudan, Swaziland, Tanzania, Togo, Uganda, Zambia and Zimbabwe.
Please read more and apply here.