Symposion organised by the Frontiers of Development Programme on marine and coastal stewardship. The programme works to engage expertise from 4 UK Academies (Academy of Medical Sciences, British Academy, Royal Society, Royal Academy of Engineering).
Background
The Frontiers of Development Programme holds 2 annual symposia in developing countries, bringing together participants from engineering, medical, social and science backgrounds across industry and academia to encourage interdisciplinary collaborations on global challenges.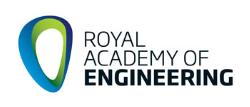 Conference Objective
Three themed sessions will take place over the course of the Rio de Janeiro symposium which will be challenge led, bridging different disciplines. The current themes for this event are:
Sustainable Blue Economy,
Management and Protection of Marine Ecosystems and
Climate Induced Disaster Mitigation and Resilience.
 After the symposium, participants will be prompted to form interdisciplinary collaborations to apply for a GCRF Networking Grant.
 As part of the symposion format a participant-led 'unconference' will be held on 18th and 19th July. The aim is to mobilises the expertise of the network and create content which is entirely specific to the group. 
This is a separate, event with a specific focus on innovation within the marine and climate spaces.
Target audience and cohort size
Early to mid-career researchers (5-20 years post-doc or industry equivalent) from industry, academia and government 
Each of the workshops involves around 60 attendees (approximately half from the UK, half from the Global South).
For expressions of interest and colleague nominations please see the website of the Royal Academy of Engineering.
Funding
Travel grants for attendance at the symposion are available through the Royal Academy of Engineering.
Date:
Sunday, 15 July, 2018 - 09:00

to

Wednesday, 18 July, 2018 - 17:00