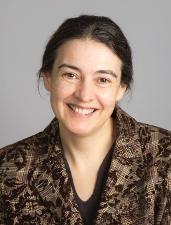 Professor Clare Grey  is a Professor of Materials Chemistry at the Department of Chemistry and a Fellow of Pembroke College. She is also a member of the Energy @ Cambridge Strategic Strategic Research Initiative's Advisory Board and  Director of the EPSRC Centre for Advanced Materials for Integrated Energy Systems (CAM-IES). 
Clare's research interests are focused on the local structure of materials and the role this plays in controlling the physical properties of technologically important but disordered materials. More specifically, she optimizes the functioning of materials for rechargeable batteries, supercapacitors and fuel cells.
The application of Clare's research - namely the development of batteries that can be charged and discharged faster and store more power for transport applications, storage and load-levelling on the electrical grid - can impact the lives of the world's poorest 3 billion people.
Her motivation to contribute to the Sustainable Development Goals through the participation in Cambridge Global Challenges is demonstrated by her contribution to the presentation to an All-Party Parliamentary Climate Change Group event, "Energy storage and the transition to a low carbon economy",  at the Houses of Parliament in London in July 2016 and by her participation as a panelist in the programme "The Forum" at the BBC World Services in September 2013.