This workshop will introduce the principles of user-centred design and explore the specific challenges and opportunities that commonly arise when using this approach to co-create innovative responses to global challenges.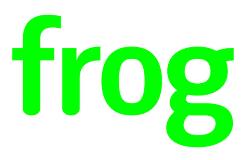 This workshop introduces the principles of user-centred design and explores the specific challenges and opportunities that commonly arise when using this approach to co-create innovative responses to global challenges.
Human-Centred Design (HCD) is an innovation process structured around the needs and aspirations of the individual and the community as end-users of a product or service.
Delivered by world-leading industrial design company frog, this workshop raises awareness about the HCD methodology as an approach to innovation that helps fill the gap between the theoretical conception of an innovation, its implementation in real life and ultimately its impact on the society.
Facilitators from frog will introduce the principles and methods of human-centred design and will guide attendees through the HCD process.
Through hands-on activities, participants will explore the typical HCD tools and methods, from the empathetic understanding of individuals and their ecosystem, to planning an innovation program that helps move from research to implementation. As an example the group will work on a real case, designing for the education on health behaviours.
Participants will also reflect on how the HCD methodology could be applied to their own work.
The workshop is open to post-graduates and early career researchers, from different research backgrounds, interested in user-centred design for the benefit of the bottom half of the world's population. To apply please send a CV (max 2 pages) and a letter of motivation outlining your interest and how you hope to apply learnings from the workshop to Sophie Mower (sophie.mower@centreforglobalequality.org).
Schedule
09.00- 09.15       Reception and Welcome
09.15-10.15        Introduction to Human Centred Design and Case Study
10.15-11.00        Warm up – icebreaker and discovering the project brief (group work)
11.00-11.15        Coffee Break
11.15-13.00        Activity – Empathising with the users and understanding their experience
13.00-14.00        Lunch
14.00-14.30        Activity – Defining research questions adopting the user perspective
14.30-15.00        Introduction to Design Research methods
15.00-15.15        Coffee Break   
15.15-15.45        Activity – Planning for Design Research
15.45-16.15        Group Share-out
16.15- 17.00       Final discussion and reflections on HCD process
Facilitators
Chiara Diana, Executive Creative Director
Chiara Diana is Executive Creative Director and Experience Strategy lead at frog. With more than 15 years' experience across disciplines, industries and geographies, Chiara was involved in the first design research experiments and the emergence of digital, interaction and service design. She grew in expertise and passion in shaping innovation for complex product-service ecosystems, bridging the gap from research to impact by putting humans first at every step of the innovation journey. She has worked with corporate clients (UBS, BT and Novartis), and international organizations (WHO, UNICEF and GSMA) leading in Europe frog Social Impact programs - helping those organizations embrace, drive and sustain change with positive impact on business and society. Chiara is a mother of two, adjunct professor at Politecnico di Milano - Design Faculty, lecturer at international universities and conferences, and enjoys painting watercolours.
Sara Manzini, Design Researcher and Service Designer
Sara Manzini is a Design Researcher and Service Designer at frog Milan. Sara is focused on designing complex service systems as a result of a deep understanding of people's needs. She has an extensive expertise in shaping experiences of products and services in several industries – with a focus on healthcare, retail, and financial services. Sara is one of the practitioners of the social impact projects at frog, bringing her unique perspective of designing for complex settings. She is also involved in co-creation and training programs for clients and partners. Sara has a deep passion for teaching the design thinking methodology in university programs at SUPSI (Lugano), Domus Academy, SPD and Bocconi (Milano).
The workshop was supported by an EPSRC GCRF Institutional Grant.