The Global Science, Technology and Innovation Conference 2017 conference aims to accelerate the development, dissemination and deployment of technological innovations that enable the achievement of the Sustainable Development Goals (SDGs). It provides a unique chance to join the global technological innovation community that is devoted to enabling transitions to less carbon and resource-intensive economic development models.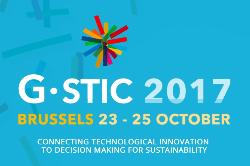 By adopting the 2030 Agenda for Sustainable Development (September 2015) and the Paris Agreement on Climate Change (December 2015), the international community has set clear goals to shift the world onto a sustainable development path. To limit global temperature rise well below 2 degrees Celsius and to achieve the ambitious Sustainable Development Goals of the 2030 Agenda, a transition is needed to more resilient economic and social development models. That in turn requires the active participation of all sectors of society to contribute to the world-wide implementation of new technologies, and new ways of producing and consuming.
Bringing together key stakeholders from Science, Technology and Innovation communities (including the private sector) the G-STIC Conference series will help catalyze change, strengthen the means of implementation and revitalise the global partnership for sustainable development. G-STIC will provide all stakeholders with a forum to review, discuss and identify internationally relevant technological innovations that can lead the world on a more sustainable development course.
The G-STIC Conference series will be hosted jointly by VITO (the prime research and technology organization on cleantech and sustainable development in Belgium) and its international partners ACTS (African Center for Technology Studies), AIT (Asian Institute of Technology), IITD (Indian Institute of Technology) and TERI (The Energy and Resources Institute).
Date:
Monday, 23 October, 2017 - 09:00

to

Wednesday, 25 October, 2017 - 17:00