Have you ever wondered how new ideas can help people in the developing world? Are you interested in what Cambridge can do to help? If so, then our Development i-Teams programme is for you!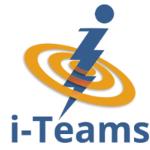 This term's projects are:
Circular photosynthesis: Plant-based bioelectrical system hub for off-grid villages, with Dr. Bombelli and Professor Howe, Biochemistry
Investigating the need for locally-produced, biodegradable wound dressings in the developing world, with Dr. Fruk, Chemical Engineering & Biotechnology
Using ApRES to enhance groundwater management in arid and semi-arid regions, with the British Antarctic Survey
The course runs on Tuesday evenings from October 17th to November 21st, with approximately 4 hours of individual work needed each week, mostly involving gathering real-world feedback from experts in international development.  
For more details and to apply for a place on a team, see www.iteamsonline.org - apply by Monday October 9th. Applications are welcomed from all students (undergraduates and post-graduates), post-docs and staff, as well as all members of the Centre for Global Equality - anyone with an interest in how technology can make the world a better place for the world's poorest.
Date:
Monday, 9 October, 2017 -

09:00

to

17:00