Frontiers of Engineering for Development is a series of interdisciplinary symposia that facilitates national and international collaboration to tackle global development challenges. The events bring together a select group of around 60 emerging UK and global engineering leaders from industry and academia to discuss pioneering technical work and cutting-edge research for international development from a diversity of engineering fields. Seed funding is available to progress some of the best ideas coming out of the event. The upcoming symposium is focussed on "Data, Knowledge, Economy and Agriculture".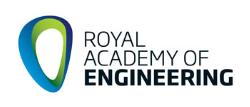 About RAE Frontiers of Engineering for Development (FoE)
FoE symposia brings together around 60 outstanding early-mid career engineers (5-20 years post-doc, or equivalent experience in industry) to network and engage with their peers outside their disciplinary silos on global challenges that cross disciplinary boundaries. They encourage collaborative work, promoting international development and cross- disciplinary thinking among the next generation of leaders in engineering, in the UK and developing countries.
Participants whose work is relevant to international development are selected from industry, academia and government both within the UK and in emerging and developing economies. The symposia take the form of multidisciplinary challenge-based workshops that aim to:
Facilitate new international, interdisciplinary collaborations that address global challenges
Enhance the reputation of engineering for development with future engineering leaders
Build a network of alumni who have lasting and impactful collaborations that are cross-disciplinary and international in nature
The FoE format was established by the US National Academy of Engineering (NAE) and we follow a similar format – you can see an example from the US here, or visit the Past symposia page for examples of previous RAEng FoE events.
There are two symposia per year, one of which is usually hosted in the UK, and one internationally. They are an important part of the Academy's portfolio of programmes in its role as delivery partner for the UK Government's new Global Challenges Research Fund (GCRF).
In the spirit of fostering collaborations that are truly interdisciplinary, participants are expected to attend the entire two-and-a-half day symposium. Following each FoE event, participants are invited to bid for seed funding to strengthen collaborations and initiate new joint projects established at the symposium.
About the upcoming symposium - Data, Knowledge, Economy and Agriculture
The fourth Royal Academy of Engineering Frontiers of Engineering for Development symposium will take place from Monday 4 December to Wednesday 6 December 2017, in Pretoria, South Africa. Guests will arrive on the evening of Sunday 3 December for an informal networking reception and welcome dinner. 
Symposium Goal: The goal of the two-and-a-half day symposia is to introduce outstanding engineers (5-20 years post-doc, or equivalent experience in industry) to each other, and through this interaction facilitate collaboration in engineering for development, the transfer of new techniques and approaches across disciplinary boundaries and the establishment of contacts among the next generation of engineering leaders.
Symposium Format: The event will be made up of three multidisciplinary workshop-style sessions. Participants are obliged to attend every session to maximise the opportunity to make new contacts and build collaborative relationships.  Each session will be focused on a sub topic of the overarching theme, with relevant experts chairing the sessions to lead discussions. To ensure there is a balance of formal and informal networking opportunities, social activities are organised. At the most recent Frontiers event in Oxford, participants went on an afternoon boat trip and attended a dinner at St. Peter's College. On the final day of the event, there will be a presentation on how to apply for seed funding. More information on that process can be found here. 
If you would like to attend this event, please visit the How to get involved page and fill out the expression of interest form. This webpage will also be updated as speakers are confirmed. 
Visit the Past Symposia page to find out more about Frontiers of Engineering for Development events
Date:
Monday, 4 December, 2017 - 09:00

to

Wednesday, 6 December, 2017 - 17:00