EPSRC is looking for innovative and methodologically ambitious proposals that link foundational research on the nature and dynamics of trust and trustworthiness, with new empirical research on the relationship between trust and global governance. EPSRC actively encourages proposals characterised by interdisciplinarity both within and beyond the social sciences, and would particularly welcome proposals that include a significant international comparative component.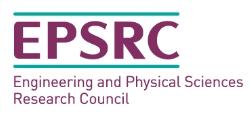 Four priority areas for research have been identified under this call. Whilst proposals may exclusively focus on one area, we would strongly encourage applicants to explore a range of questions within and between each of these cross-cutting priority areas:
Trust in a world of inequalities
Trust and the future of democracy
Identity, community, and the social and psychological foundations of trust
Trust, ethics and international security
Trust and global governance in a turbulent age is one of EPSRC's seven key research priorities and £5 million will be invested in taking forward this exciting research agenda. ESPRC expects to fund two or three large grants under this theme.
All proposals to this call must be between £1 million and £2.5 million at 100% fEC (with the ESRC contributing 80% fEC). Successful grants should start from 1 March 2019 for a period of 36 – 60 months. 
University Internal Deadlines
The University will not limit the number of applications that can be submitted for this call. However, all proposals will be expected to take part in the University internal quality peer review to provide as much support as possible during the application stage.
Communication of the Intention to Submit to the Research Strategy Office:
Applicants are required to communicate their Intention to Submit to researchstrategy@admin.cam.ac.uk by 25th April 2018.  Please, include: PI name, Department, Title of the proposal, Priority area of research and 1 page summary
Applicants are also required to send the following documents for peer review to researchstrategy@admin.cam.ac.uk by 25th May 2018: the Case for support (maximum of 12 sides of A4; please refer to the Je-S guidance for further guidance on the format and what it should include); CV (2 pages) and list of publications; a support letter from the Head of Department/Faculty confirming that they are happy to support the application and hold the grant.
Please find further information and apply here.