This call is supported through Science & Technology Facilities Council (STFC)'s Global Challenges Research Fund (GCRF) allocation for projects with the aim of accessing the untapped potential of STFC's community to contribute to addressing challenges in developing countries.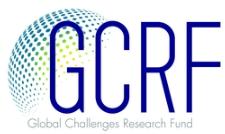 Possible uses of Foundation Awards might include elements of, but are not limited to, the following:
developing new capacity building and/or research collaborations or partnerships, including training at all career levels (e.g. technician, technologist, doctoral students, postdoctoral researcher, early and mid-career researchers etc)
partnership building including networks, seminars and workshops to explore and identify areas for cooperation and to enhance the building of partnerships and collaborations, secondments and movement of people (including students) e.g. between UK and overseas research organisations or between research organisations (UK and overseas) and industry/third sector/ Government
extending the scope of existing activities for wider application in LMICs
exploratory or pump priming research studies for investigation of new approaches and/or generation of preliminary data
creating effective pathways to impact in LMICs
Applications will be required to demonstrate that the project is primarily relevant to promoting the economic development and welfare of developing countries. 
Interdisciplinary projects are welcomed, where appropriate. It is vital that applicants consider the international development context of their proposed projects, including socio-economic and environmental factors as appropriate. Projects must focus on evidenced, unmet needs identified by stakeholders and/or collaborators in the LMIC(s).
Up to £4m over two years will be available for this call.
Please find the guidance document and the application form here. Potential applicants should discuss their ideas with the STFC GCRF team as early as possible in the process of developing a proposal in order to establish the suitability of their proposal.