The EU-India Platform for Social Sciences and Humanities (EqUIP) has announced its first research funding call to bring together social science and humanities funders in India and Europe to support excellent and innovative research on sustainability, equity, wellbeing and cultural connections. The emphasis of the research will be on Indian and European dimensions, in both contemporary and historical contexts.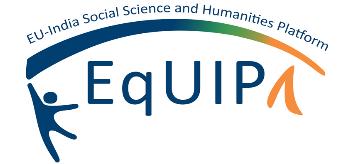 Research proposals should focus on societal challenges facing both India and the respective European countries, with suggested themes including, but not limited to, sustainability, equity, wellbeing and cultural connections. Funders strongly encourage interdisciplinary approaches across the social sciences and humanities (SSH) to address the themes of this call. Other disciplines can also be involved in proposals as long as overarching focus remains rooted in SSH. 
With a total funding of €5.5 million, it is expected that six projects will be funded. Researchers from India, Finland, France, Norway, Poland, Slovenia, and the UK are invited to apply. Further European countries may also be announced shortly.
Each proposal under this call will require the building of consortia of three or more research groups based in three or more different countries participating in the call and be eligible for the funding from their national funding agencies. Every proposal must involve representation from India eligible for funding by the participating Indian funding agencies.
In the case of the UK the research group can consist of an individual researcher or group of researchers. The UK component of an international consortium will be required to propose a substantial level of interdisciplinary activity, bringing together and utilising research expertise and methodologies from both the arts and humanities and the social sciences.
In order to assist potential applicants to network with researchers in other eligible countries, we have developed the opportunity for digital networking. Applicants are invited to use the EqUIP partner search tool, which facilitates matches between potential partners with similar ideas. It provides the opportunity to express interest either in joining a research proposal or to search for partner(s) for an existing proposal. All potential applications are encouraged to use the platform. 
The call was developed following six symposia held in 2015 and 2016 that brought together researchers from India and a number of EU countries. These symposia helped to define common interests and research priorities to address societal challenges facing India and respective European countries as well as paving the way to address these challenges in a collaborative way.
Please read more here.