This funding is available to allow EPSRC-funded postdocs to take up short-term placements in a partner organisation in industry, the public sector or third sector (not at other Universities).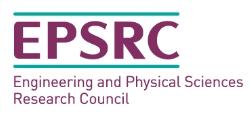 The funding is intended to enable the postdoc to apply their research-based knowledge and expertise in a different context, helping the partner organisation innovate and the postdoc to gain valuable work experience.  
The choice of research topic is left open, and applications should show:
evidence of how the placement(s) will address an industry need;
evidence that the placement activity will be focused on knowledge exchange between the postdoc and the partner organisation;
evidence that the placement will enable further postdoc skills development in a non-academic setting.
Funding is available to cover salary and travel costs for up to three months, full or part-time. Through the scheme, the postdocs must find a suitable company or organisation and obtain agreement with their PI to pursue the placement prior to applying for funding.
The placement should be completed within 12 months of the award or by 31st March 2020, whichever is earlier. An agreement between the partner organisation and University will be required to cover intellectual property, confidentiality and other matters.
Applications will be considered on a rolling basis and should be submitted to researchstrategy@admin.cam.ac.uk using the IAA form together with a letter of support from the partner organisation confirming the details of their involvement.
Please find further details here. Any questions regarding the scheme arrangements should be directed to researchstrategy@admin.cam.ac.uk.