Submitted by Anthony Bridgen... on Wed, 21/04/2021 - 00:00
---
Dear Cambridge Global Challenges Colleagues,
Following an FCDO Update on the UK ODA cuts, released through a written brief at 5pm on 21 April 2021, we wanted to send an update to the Global Challenges network.
We can only continue to ask you to please do the following:
Share the information through social media, talk to journalists, write to your MPs, etc.
Add your name to the Reverse ODA Cuts Open Letter if you haven't already (this letter was sent 18 March to the Government but they are still open for further signatures)
Add your name to the Healthy Societies Open Letter (again, this letter has already been submitted to the Government but they are still open for further signatures)
Sign the petition calling on the Government to revoke cuts to global health research
Consider writing a blog on your research and the effect that the cuts will have and publish on the CGC website and/or on the Reverse ODA Cuts website. An example is shared here and we (coordinator@gci.cam.ac.uk) are happy to support you with editing.
The FCDO update from 20 April states: "The resulting portfolio marks a strategic shift, putting our aid budget to work alongside our diplomatic network, our science and technology expertise and our economic partnerships in tackling global challenges. We will focus on core HMG priorities for poverty reduction, including getting more girls into school, providing urgent humanitarian support to those who need it most, and tackling global threats like climate change, COVID recovery and other international health priorities."
The update provides thematic allocation for the 2021/22 financial year:
| | |
| --- | --- |
| Thematic area | FCDO ODA allocation 2021/22, £m |
| Climate change and biodiversity | 534 |
| COVID and global health | 1,305 |
| Girls' education | 400 |
| Humanitarian preparedness and response | 906 |
| Open societies and conflict | 419 |
| Science, research and technology | 38 (plus thematic R&D) |
| Trade and economic development | 491 |
| Financial transactions | 863 |
| Programmes with cross cutting themes | 1,940 |
| ALBs, International Subscriptions and other fixed costs | 1,219 |
| Total | 8,115 |
Importantly, the FCDO allocations omit to make comparison with figures from the previous years. Some initial analysis of this has started to emerge from non-governmental bodies e.g. this table from Save the Children. However, bodies such as the Center for Global Development are of the opinion that these figures even underestimate the cuts and for example, could be as high as 50% to education.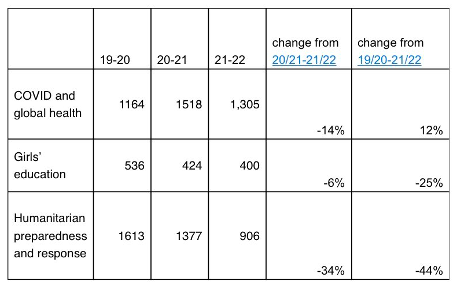 You can find links for media analysis here: