Submitted by Sara Serradas Duarte on Tue, 31/10/2017 - 21:23
---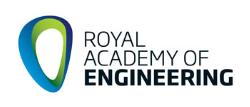 Many important research questions and many of the challenges facing society today increasingly require interdisciplinary approaches. New advances in science, engineering, social sciences and humanities, as well as the development and adoption of new technologies, require collaboration across traditional disciplinary boundaries. The Royal Academy of Engineering, British Academy, and the Royal Society, with the kind support of The Leverhulme Trust, have therefore undertaken a new initiative to start the APEX Awards (Academies Partnership in supporting Excellence in cross-disciplinary (X) research). These awards aim to demonstrate how researchers from different disciplines sharing a common vision can come together to generate creative and innovative solutions which will benefit the wider society.
The first recipients of the APEX awards have been announced. Dr Kate Robson Brown from the University of Bristol has been awarded funding to research how bones respond to stress during growth and development. Collaborating with the NASA Ames Research Centre, the findings will be used in a pilot study to design an engineering structure that could be manufactured and deployed in space.
Other projects recognised in the inaugural funding awards include the study of public reactions to the reuse of rainwater for human consumption by Professor Robert Field, University of Oxford, and whether medieval understandings of the universe can be used to provide clues on the elusive 'Planet Nine', a project led by Dr Marilina Cesario, Queen's University Belfast.
Through the investigation of mathematical models of the financial sector, Professor Rama Cont from Imperial College London will look at the development of new insights into the monitoring and regulation of systematic risk, and Dave Goulson, University of Sussex, will explore the impact of pesticides on pollinators and people in urban areas.
Professor Stuart Murray from the University of Leeds will examine the relationship between disability and the design and use of prosthetics to develop more inclusive design and production methods.
The next round of APEX awards are due to open on 1 November 2017.
For further details, please see the source article here.