Submitted by Sara Serradas Duarte on Thu, 12/04/2018 - 15:49
---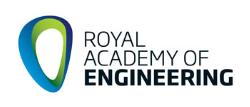 Frontiers of Engineering for Development is a series of interdisciplinary symposia that facilitates national and international collaboration to tackle global development challenges. The event brings together a select group of around 60 emerging UK and global engineering leaders from industry and academia to discuss pioneering technical work and cutting-edge research for international development from a diversity of engineering fields. Seed funding is available to progress some of the best ideas coming out of the event.
Many congratulations to Eiko Yoneki for the Frontiers of Engineering for Development Award given to "BUGALERT: Pest and Disease Monitoring in Greenhouses with Raspberry-Pi Network", after the fourth Symposium on the theme of Agriculture, Data and the Knowledge Economy in Pretoria, South Africa.
Please find further information about the RAE Frontiers of Engineering for Development Awards here.