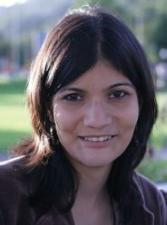 Dr Karishma Jain is the Coordinator and a Teaching Fellow at the EPSRC Centre for Doctoral Training in Nanoscience and Nanotechnology (NanoDTC), which is strongly links to the Departments of Physics, Chemistry, Engineering, Materials Science and several others at the University of Cambridge. She is currently based at the Maxwell Centre, which is the main outward-facing organisation in Physical Sciences and Engineering at the University.
Karishma is interested in the application of cutting edge technologies to provide elegant and effective solutions to real world problems. Her specific interest is in the translation of early stage science (particularly nanoscience) research to useful innovations, which can impact the lives of the world's poorest 3 billion people through better health diagnostics and treatment, availability of clean water and off-grid power.
Karishma considers Professor Hans Rosling's talks an inspiration underlying her personal motivation to contributing to the Sustainable Development Goals through the participation in Cambridge Global Challenges, reminding us of what the most important aspects of achieving an equitable society are.