Educational technologies; Inequality; Africa; Digital neo-colonialism; Massive Open Online Courses; Centre of Development Studies; Department of Politics and International Studies (POLIS); School of Humanities and Social Sciences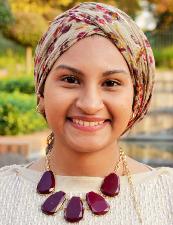 Taskeen Adam is a Cambridge-Africa scholar pursuing doctoral research at the Centre for Development Studies, Department of Politics and International Studies (POLIS).
Her research interest is on educational technologies in Sub-Saharan Africa, focusing on the role of African Massive Open Online Courses (MOOCs) in helping the most marginalized. Her MPhil in Engineering for Sustainable Development thesis focused on the Sustainable Implementation of the One Laptop per Child project in Rwanda.
Taskeen's research mainly tackles the Sustainable Development Goals 4 (Quality education), 8 (Decent growth and economic growth) and 10 (Reduced Inequalities) through the improvement of access to quality decolonised education, by reducing unemployment and by the bridging of inequalities. The focus of her research and her related roles as co-founder of Khwela (an online platform to empower unemployed youth through career development MOOCs relevant to South African contexts), as pioneer of the Solar Powered Learning initiative in South Africa and of the Mobile Education for Smart Technology project in India positively impact the lives of the world's poorest 3 billion people.
Taskeen's commitment to bridge the Digital Divide, with a specific focus on digital neo-colonialism (which is concerned with the over-representation of western knowledges as global knowledges, at the loss of indigenous or local knowledges that are not online) underlies her motivation to join Cambridge Global Challenges.