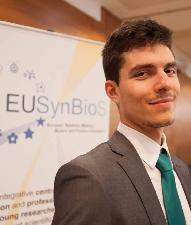 Christian Boehm is a PhD Gates Cambridge Scholar at the Department of Plant Sciences and at Christ's College and a member of the Synthetic Biology Strategic Research Initiative. He is also the Founder and Chair of the European Association of Synthetic Biology Students and Postdocs (EUSynBioS), Research Affiliate of the Cambridge Centre for the Study of Existential Risk (CSER) and has served as an advisor to the Intergovernmental Panel on Climate Change (IPCC) and to the Convention on Biological Diversity (CBD) for several years.
Christian's PhD research is focused on the development of genetic circuits for spatiotemporal control over plant gene expression in the nucleus and chloroplast.
The approach taken by Christian's research in synthetic biology to challenges of sustainable development has the potential to positively impact the lives of the world's poorest 3 billion people. Through his activities, Christian promotes responsible utilization of modern biotechnology to address the global challenges of food supply, green energy, and sustainable bio-production. Indeed, his work with IPCC and CBD focuses on the relationship between modern biotechnology and existential risk and he founded EUSynBioS to raise awareness for societal implications of synthetic biology in students and early-career researchers.
Christian's concerns for environmental sustainability go back to his high-school years in rural Bavaria, and were consolidated by the alarming IPCC Fourth Assessment Report in 2007. As a member of Cambridge Global Challenges, he builds on his diverse background across science and policy to develop new interdisciplinary approaches to realization of the UN Sustainable Development Goals.