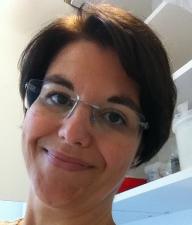 Dr Dora Pereira is a Research Group Leader at the Department of Pathology and a Fellow of the Cambridge Centre for Global Health Research and of the Wellcome Trust Cambridge Centre for Global Health Research. Dora is also a Senior Member of Hughes Hall and has honorary appointments with the MRC Unit, The Gambia and the MRC International Nutrition Group.
Her collaborative research projects address the risks and benefits of dietary and supplemental iron, focusing on the mechanistic and pathological aspects of intestinal iron absorption and on the health economics of oral iron supplementation, mostly targeting resource-poor countries in Sub-Saharan Africa.
Dora's research interests can impact the lives of the world's poorest 3 billion people through the development of safer strategies to treat iron deficiency anemia, the most widespread nutritional deficiency disorder in the world.
The TED talk by Dora's mentor Andrew Prentice on "Epigenetics echoes of your mother's diet" is an inspiration underlying her personal motivation to contributing to the Sustainable Development Goals through the participation in Cambridge Global Challenges.