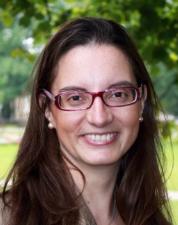 Professor Cecilia Mascolo is a Professor of Mobile Systems at the Networks and Operating Systems Group, Computer Laboratory and a Fellow of Jesus College. At Cambridge, she is also a member of the Cambridge Networks Network and of the Centre for Science and Policy (CSaP). Cecilia is a Faculty Fellow of Alan Turing Institute for Data science. 
Her research interests are on mobile and sensor systems, mobility modeling, mobile applications and mobile data analysis. Cecilia's group has worked on systems to improve the efficiency of mobile and wearable devices, on sensing systems and on models able to cater for spatio-temporal aspects related to human mobility.
The application of Ceclia's research – namely in the areas of recommendation, behavior intervention, health, urban design, organization analytics and zoology - can impact the lives of the world's poorest 3 billion people and underlies her motivation to contribute to the Sustainable Development Goals through Cambridge Global Challenges.