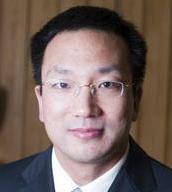 Dr Dongfang Liang is a University Lecturer in Civil Engineering Fluid Mechanics at the Department of Engineering and a Fellow and Director of Studies at Churchill College. He is also a member of the Energy @ Cambridge Strategic Research Initiative and of the Cambridge Fluids Network.
Dongfang's research interest is on water as an important natural force in transporting sediments, nutrients, pollutants, etc. His studies on hydrodynamics include the scour and liquefaction around offshore structures, tsunami wave propagation, run-up and impact on coastal structures, flood risk modelling, turbulent mixing and water quality modelling.
The understanding of these phenomena underlying the fate and distribution of pollutants such as toxicants and pathogens within water bodies can impact the lives of the world's poorest 3 billion people.
Dongfang has witnessed the shortage of water resources and the degradation of hydro-environment in his hometown in northern China leading to economic development, population growth and climate change- associated problems. His resulting interest in using his expertise in hydrodynamics to mitigate water-related disasters in order to contribute to the Sustainable Development Goals underlies his motivation to participate in Cambridge Global Challenges.