Technology; mHealth; Biometrics; ICT4D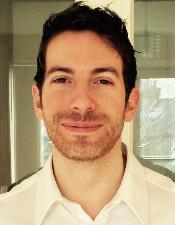 Dr Toby Norman is the CEO of Simprints, a tech startup backed by ARM, USAID, DFID and the Gates Foundation to develop low-cost biometrics for patient identification in developing countries. He is 2016 Forbes 30 under 30 social entrepreneur and a 2017 Schwab Foundation Awardee.
In a world where 1.5 billion are invisible in the eyes of governments and formal registration, Simprints develops hardware and open-source software that integrates safe, simple identification into the tools used by frontline health and aid workers.
Simprints' goal is to radically disrupt the inaccurate way we currently track and deliver progress towards the Sustainable Development Goals, and instead build a world where every person—not guesswork—actually counts in the fight against poverty.
Toby's personal motivation in joining Cambridge Global Challenges is making progress towards the Sustainable Development Goals for maternal and child healthcare. After 4 years of research in Bangladesh he has seen the good we can do if we can see which patients we're reaching—and who has fallen through the cracks.