Electrochemistry; Energy devices; Materials chemistry; Synthesis; Sensors; Department of Materials Science and Metallurgy; School of Physical Science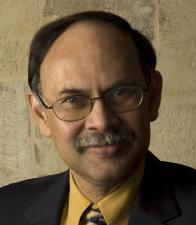 Dr Vasant Kumar is a Reader in Materials Chemistry and the Head of Materials Chemistry Group at the Department of Materials Science and Metallurgy. He is also a Fellow and Director of Studies at Trinity Hall, a member of the Energy @ Cambridge Strategic Research Initiative, a Fellow of the Institute of Materials, Mining & Metallurgy and Director of four spin-out companies.
Vasant's research is focused on the electrochemical reactions at the interface of electrodes and electrolytes and on the morphology of electrodic materials within an ecological calculus at the cutting edge of new applications. The resulting optimization of the rate of redox reactions and the minimization of polarization losses have applications that range from energy devices such as batteries and fuel cells to environmental research in mineral carbonation, sensors, sustainability and recycling of materials and photocatalytic reactions. An example of Vasant's advancement of novel methodologies for carbon reduction and carbon sequestration in minerals, metals and materials processing is a new environmentally clean process for recovering electro-active paste material from automotive-batteries for making new batteries. 
Many of these applications, as well as Vasant's articles in monographs in journals that have bearing to the Sustainable Development Goals and his experience in transferring technology to industry can impact the lives of the world's poorest 3 billion people. 
Vasant's desire and ambition to redress the unnecessary excesses of global poverty through facilitating technology access and associated empowering social activities underlies his motivation to contribute to the Sustainable Development Goals through the participation in Cambridge Global Challenges.