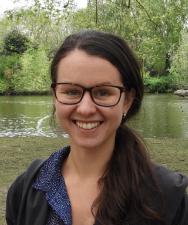 Elisabeth Liddle is a PhD candidate in the Centre for Sustainable Development, Department of Engineering. Her research is part of the research programme, "Hidden Crisis: unravelling current failures for future success in rural groundwater supply" and she is supervised by Dr Richard Fenner.
Elisabeth's research looks at the problem of handpump-equipped borehole failure in sub-Saharan Africa, with a specific focus on the sustainability of drilling in Uganda.
Over 30% of handpumps in sub-Saharan Africa are in a state of failure. Subsequently, many of those who received handpumps under the MDGs have had to revert to the use of unsafe unimproved water sources. Elisabeth strongly believes that there is an imminent need, firstly, to understand the reasons for handpump failure and, secondly, to understand where the most powerful interventions lie for preventing this failure in the future if the Sustainable Development Goal of universal access to safe sources of water is to be achieved. Elisabeth is using Bayesian network analysis and Systems Dynamics to help understand these causes and interventions. 
Elisabeth's desire to work in this area and to participate in Cambridge Global Challenges stemmed from the classes taken during her undergraduate degree and her Masters research, in which she examined groundwater quality in Ndola, Zambia. She highly recommends the book, "Water: A Matter of Life and Health" by Maggie Black and Rupert Talbot for anyone who would like an insight as to the absolute need to ensure that all future improved water supply provision is sustainable and able to function in the long-term if access to safe and adequate quantities of water is to truly result.