Adaptation; Climate change; Decision-making; Socio-technical systems; Roads; Department of Engineering; School of Technology; EPSRC Centre for Doctoral Training in Future Infrastructure and Built Environment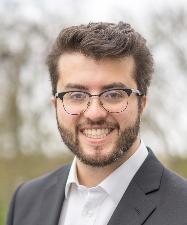 Juan Sebastián Cañavera Herrera is a Civil Engineer and a PhD Student at the Future Infrastructure and Built Environment - Centre for Doctoral Training of the Engineering Department, Department of Engineering and at Queens' College.
His current doctoral research is centered on decision-making processes related to the adaptation of road infrastructure to climate change in Bogotá, Colombia.
Juan's research can positively impact the lives of the world's poorest 3 billion people through the understanding of how to improve decision-making processes for climate change adaptation in developing nations and of how aid engineers and technical professionals can increase the impact of their work in policy making.
Juan's personal motivation to contribute to the Sustainable Development Goals through Cambridge Global Challenges lies on the hope of avoiding future losses of lives, livelihoods and infrastructure that are the terrible effects of weather-related disasters, like the one that affected Mocoa, Colombia not long ago.