Conjugated polymers; Photovoltaics; Time-resolved optical spectroscopy; Molecular conductors and magnets; Department of Physics; School of Physical Sciences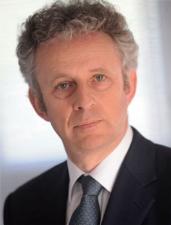 Professor Sir Richard Friend is a Professor of Physics at the Department of Physics, the Research Group Leader of the Optoelectronics Research Group, the Director of the Winton Programme for the Physics of Sustainability and the Director of the Maxwell Centre. He is also a Member of the Advisory Board for the Energy @ Cambridge Strategic Research Initiative and a Fellow of St John's College. 
Richard pioneered the field of organic electronics with the discovery that that conjugated organic polymers can be used in a number of semiconducting devices such as field-effect transistors, LEDs and solar cells. Current research interests include the electronic properties and device physics of light-emitting diodes and solar cells made with organic semiconductors.
The applicability of Richard's research, together with his experience in the commercialization of scientific discoveries (namely through the spin-off companies Cambridge Display Technology, Plastic Logic and Eight19) can impact the lives of the world's poorest 3 billion people.