Industrial sustainability; Sustainable factories; Sustainable food systems; Sustainable car industry; Department of Engineering; School of Technology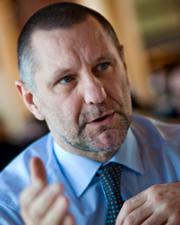 Professor Steve Evans is a Professor of Industrial Sustainability and Director of Research in Industrial Sustainability at the Institute for Manufacturing and the Director of the EPSRC Centre for Innovative Manufacturing in Industrial Sustainability. He is also a member of the Cambridge Forum for Sustainability, a Fellow of Wolfson College, a Fellow of the Cambridge Institute for Sustainability Leadership and a member of the Energy @ Cambridge Strategic Research Initiative.
Steve's research aims to understand how industry develops solutions that lead to a sustainable future.
Steve brings his industrial experience and grounding to the challenge of tackling complex, real-life problems, all based on deep research into the issues that hold us back from delivering a sustainable industrial system. This commitment to sustainability is delivered through industry and government change, working with others and with the world's richest to help all citizens, including the world's poorest 3 billion people.
Steve seeks to use his knowledge to manufacture a better world, which underlies his motivation to contributing to the Sustainable Development Goals through the participation in Cambridge Global Challenges. Being born into the wonderful environment in a National Park and joining the mountain rescue team might explain some of his enthusiasms!