The Engineering and Physical Sciences Research Council Impact Acceleration Account (IAA) Partnership Development Awards will pump-prime collaborations with industry partners. The fund is open to research projects within EPSRC remit, and linked to previous EPSRC-funded research, which will kick-start collaborations with companies who have significant potential to become new business partners for the University.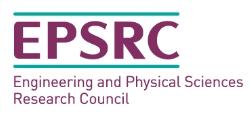 Typically, an IAA Partnership Development Award will fund an initial project of interest to a new industrial partner, which will create the basis for a larger and longer-term collaboration which could attract funding either from the company or other external sources (for example Innovate UK). Evidence of real involvement from the industry partner in the project should be provided in the proposal and support letter including estimates of cash or in-kind contributions.  Projects aligned with the University's Strategic Research Initiatives and Strategic Research Networks are particularly welcomed. 
Projects with existing company partners, such as spin-outs or companies which have previously sponsored research within the same research group, will not be supported.
Projects will be short-term (3-6 months) and of up to £50 000 in value. Any costs over £50 000, or to enable the project to continue beyond six months are expected to be contributed by the industry partner. Spending on the awards should be completed within 12 months of the award date.
For further details and application instructions, please see the source article here.