What are the failures of Transitional Justice as it is currently conceived, and how can it be rethought? How can theories and practices from the Global South, particularly Africa, be centred in this reconceptualization of the field? These are the questions motivating the new Rethinking Transitional Justice from African Perspectives initiative at the University of Cambridge. An interdisciplinary collaboration supported by the School of Humanities and Social Sciences, the project is convened by Dr. Sarah Nouwen (Lauterpacht Centre for International Law), Dr. Adam Branch (Centre for African Studies), and Dr. Njoki Wamai (Centre for Governance and Human Rights).
Join us at our launch as we discuss our upcoming seminar series and our Easter-term workshops with partner organizations working in this space in Africa - the Mathare Social Justice Centre (Kenya), the Refugee Law Project (Uganda), and the Catholic University of South Sudan. 
Please find further details here.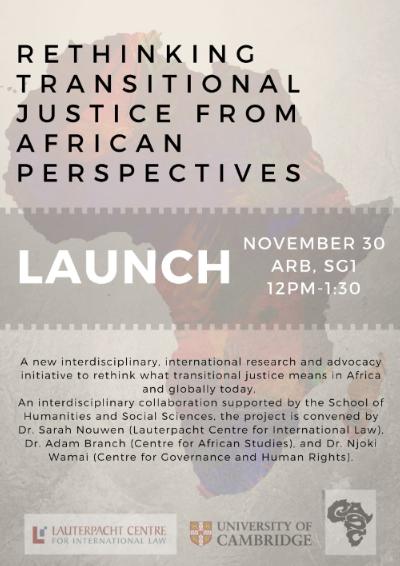 Date:
Thursday, 30 November, 2017 -

12:00

to

13:00
Event location:
SG1, Alison Richard Building, University of Cambridge