The Engineering and Physical Sciences Research Council (EPSRC) Follow-on Fund helps fund the early stages of commercialisation of technologies, to make ideas more attractive for commercial investment. Projects must arise from EPSRC-funded research, must be aimed solely at commercialisation (i.e. may not include further research), and will be supported based on individual project needs. Up to £60,000 is available per project.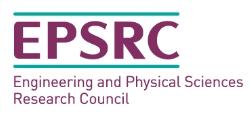 The fund is open to develop ideas which have arisen from EPSRC-funded research, which may be either research grants, fellowships or studentships. If the project arises from a studentship, and the work in the Follow-on Fund project is to be carried out by the student, then that student must have submitted their thesis before the project starts.
In terms of eligibility, all projects must fall within EPSRC's remit. Grants will be made available to fund work which will significantly increase the probability of commercialisation of the ideas. This may include proof of concept, development of prototypes and market assessment, but is not for continuation of research. Identifiable intellectual property which can be exploited should already exist before the start of the Follow on Fund project, for example a patent application or a considerable body of software. The grant is well-suited to short projects that define routes to uptake, and involve liaising with partners and finding the resources for commercialisation.
Follow-on Fund awards will be made on the basis of individual project needs, up to a maximum of £60,000. Permitted activities include funding for staff to perform work in the University, subcontracting to external parties (eg for market research or prototype development), purchase of consumables and equipment. The award will cover 100% of directly incurred costs but will not cover PI costs, student fees, patenting costs, estate costs, or indirect costs. The cost of any single item of equipment cannot exceed £10,000.
Applicants should be aware that the IAA funding end date is 31 March 2020, and all projects without exception must be completed before that date.
For further details on this call, please see the source article here.