The Engineering and Physical Sciences Resource Council (EPSRC) Centre of Advanced Materials for Integrated Energy Systems, CAM-IES, and the Hydrogen and Fuel Cell Research Hub, H2FC SUPERGEN, are seeking proposals from academic staff at UK universities, and associated research institutions (eligible to receive EPSRC funding), in the area of materials for hydrogen production.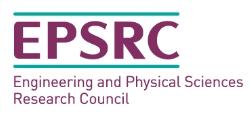 Hydrogen is expected to play a key role as a future energy carrier. This will require the development of low-carbon methods of hydrogen production. These methods could include, but are not limited to, water electrolysis, intensified and/or integrated reforming processes or other chemical methods, solar generation and bio-production of hydrogen.  In all cases, it is essential that the proposal demonstrates successful development of the concepts and/or materials to be explored will result in improved low carbon routes to hydrogen production. We are looking for projects that also demonstrate potential for scalable and cost-effective hydrogen production at the energy system level.
Successful projects are expected to show how they will engage with CAM-IES members and engage with the H2FC SUPERGEN Hub.  A strong focus of CAM-IES is to synthesise, characterise and understand the role that interfaces play in controlling function. Proposals should also augment or complement ongoing CAM-IES projects.
Successful proposals should also include a description of:
The novelty of the research to be undertaken and its impact on the field of low carbon hydrogen production;
The methodology to be followed;
The pathways to impact, including engagement with CAM-IES and H2FC SUPERGEN;
Track record for the academics and researchers involved;
Description of the previous or current research relevant to the Call;
The budget requested, together with its justification.
The call is set to fund two projects, providing up to £100k each (at 80% FEC). Projects need to be completed by 30 April 2019 due to EPSRC funding obligations.
For further details on this funding opportunity, please see the full call document here.