This new call, New models of sustainable development, aims to fund new interdisciplinary and innovative research which helps us to understand how new models of economic development (broadly defined) can help address the development challenges reflected in the UN's Agenda 2030.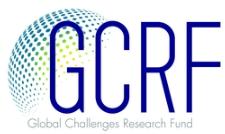 We are looking for ambitious projects, investigating new avenues for research that directly engages with the new development agenda. Partnerships, whether with academics, policymakers or stakeholders, are encouraged. Proposals may be submitted under two broad themes:
Transitions towards sustainable and inclusive societies: For all developing countries, there is a need to manage advances in wellbeing, equity and economic growth alongside the challenges of climate change, biodiversity and cleaner energy and air. Are there models or approaches to economic development that offer new insights into supporting sustainable, equitable growth? What potential do alternative models of production and distribution offer, and how can innovation best be encouraged and supported through appropriate institutional, legal and regulatory frameworks? 
or
Decent work for all: Goal 8 of the UN's Sustainable Development Goals cites 'decent work for all' as an integral part of the challenge of sustainable growth. The aim of Goal 8 is to ensure not only that sufficient employment is created, but also that work is productive, fairly remunerated and meets minimum standards in terms of security and prospects for personal development. Creating the conditions to achieve this raises fundamental challenges in terms of raising investment, productivity and competitiveness in lower income countries. This in turn relates to issues such as training and education, labour market regulation, and the capacity of the state to encourage and support enterprise, investment and innovation on the one hand whilst ensuring appropriate employment standards and social security support on the other. 
ESRC is investing £7 million for new research grants that qualify for funding from the Global Challenges Research Fund (GCRF). Proposals are invited for research grants of between £500,000 and £800,000 at 100% full Economic Cost (fEC), and of durations between 18 to 30 months. Proposals must be led by a researcher at an eligible UK research organisation and should be submitted through the research councils' Joint Electronic Submission system (Je-S).
Please find further details and apply here.