Applications are invited for research projects and knowledge exchange activities compliant with the ODA guidelines, i.e. research primarily relevant to the problems of developing countries and where establishing economic development and welfare of developing countries is the main objective of research.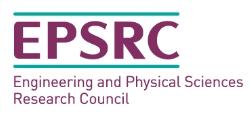 A EPSRC institutional sponsorship grant is supporting the development of a portfolio of research projects and Knowledge Exchange activities compliant with the Official Development Assistance (ODA) guidelines under the Global Challenges Research Fund (GCRF).The GCRF will become a key part of the UK government's commitment to spending at least 0.7% of UK Gross National Income (GNI) annually on ODA. 
The research conducted under this grant can be carried out in UK or abroad and there is no requirement that matched funding or effort should be attracted from international research partners; international collaboration with partners in ODA-eligible countries is encouraged to maximise the impact of the funding and to ensure the research is ODA compliant. The list of ODA eligible countries is available here. 
 Expected use of funds:
All areas of engineering and physical sciences research can be included as long as the topic is compatible with ODA guidelines.
Multidisciplinary projects may be supported as long as the majority of the work proposed is within the EPSRC remit and they comply with ODA guidelines.
Research projects may be pump-priming in new areas or build on existing collaborations within EPSRC remit.
Knowledge exchange or impact acceleration activities should be based on previously funded EPSRC research, as for EPSRC Impact Acceleration Accounts.
 Terms of the internal grant award:
The grants will be awarded according to the standard full economic costing model: 80%fEC.
Terms and conditions of standard EPSRC research grants apply. The grant funds may not be used for capital expenditure, i.e. no single items of equipment above the £10k threshold are permitted. Student fees, stipends and any related costs are not eligible expenditure on this grant. 
The projects start in September 2017 and must end by 31st March 2018. The end of the grant is non-negotiable and the grant cannot be used to pay for the activities beyond the end date of the grant.
For more information on the application process (deadline: 31st August 2017), on expenditure reporting requirements and on narrative reporting requirements, please do not hesitate to contact the Research Strategy Office at researchstrategy@admin.cam.ac.uk.