The Royal Academy of Engineering (RAENG) Research Fellowships are designed to promote research excellence in engineering. They provide support for early career post-doctoral researchers and encourage them to become future research leaders in engineering.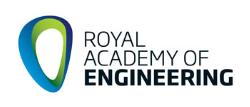 Applications are welcomed from outstanding researchers who have been awarded their PhD in the last four years. The scheme provides funding for five years to encourage the best researchers in engineering to become research leaders in their specialised areas. Research Fellowships must be held at a UK higher education institution/university. 
Each application for Research Fellowships is capped at a maximum contribution from the Academy of £500,000 over the 5-year period, at 80% of full economic costs.
An additional £25,000 per annum is available for Engineering for Development Research Fellowship to develop international collaborations in order to deliver the research outputs and build pathways to positively impact or contribute to the sustainable economic or social development of a country or countries on the Development Assistance Committee (DAC) list.   
For further details please see the RAENG website.